On the fence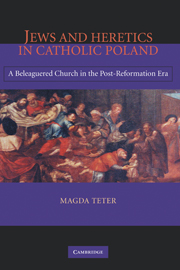 Came across this book and would like to buy it, but the price is a bit steep.
I read a review of it and it is pretty fascinating - basically demolishing many of the preconceived notions about Jewish life in Poland in the 17th and 18th century.
The Catholic Church, far from being dominant in Poland is actually feeling threatened by both religious heretics (Protestants, Arians) and by the wealthy landed gentry who refuse to buckle to Church authority on worldly matters. In many cases, these wealthy nobles hired Jews to run their estates, even to the extent of having authority to corporally punish the peasants. It is customary to hear of Jews being forced to work on Shabbat, but here we see cases of Christian servants being made to work on Sunday and holidays. We see a wealthy Jewish widow, a landowner, taking her Polish neighbor to court.
Anyway, seems like an interesting book...
Here is an excerpt
OTOH, my
The Cambridge Companion to the Talmud and Rabbinic Literature
is on its way..